When you are prepared, there is no need to fret over a rainy wedding day forecast. To help you get prepared check out some rainy day wedding inspiration to help you make the most out of a rainy day blessing.
If by chance it happens to rain on your big day and you are prepared, you can make the most of the moment with fun rainy day accessories to really add some personality to your wedding day photos.
Purchasing matching umbrellas that coordinate with your wedding color decor or fun rain boots as gifts for your bridesmaids can add just the right touch or pop of color, as well as calm your nerves when the rain starts to fall. When you prepare for it, so many fun photography options become available to capture during those special wedding day moments in the rain.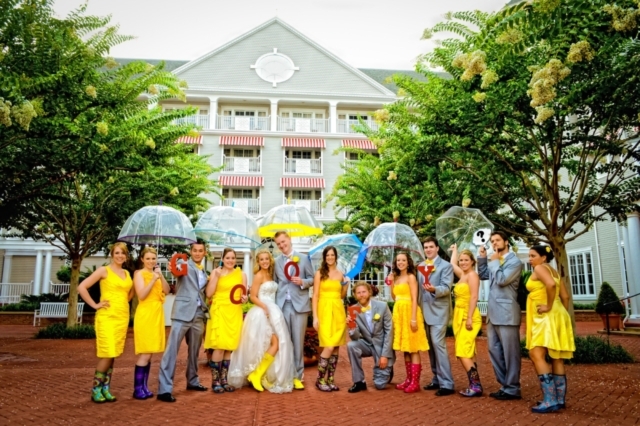 Love this idea of a Rain Jar for a rainy day wedding, (idea and photo by Kimberly Brooke Photography) where what seems like an inconvenience can be cherished forever! Collect some rain on the wedding day and give to the couple!
Does rain on your wedding day really signify good luck? I like to think so. Rain signifies blessings, and blessings signify prosperity.  It is therefore considered good luck if it rains on that special day, due to the hopeful expectations of a happy, prosperous life together.
Alpha Prosperity Events – Houston Wedding Planner, Sugar Land Wedding Planner, Missouri City, Texas Wedding Planner. Providing full service wedding planning and coordination services to the greater Houston and surrounding areas. Follow our wedding planner adventures and inspirations on Instagram, Pinterest, Facebook and Twitter.